Red Vines Holiday Danish Wreath Recipe
With Red Licorice Holiday Candy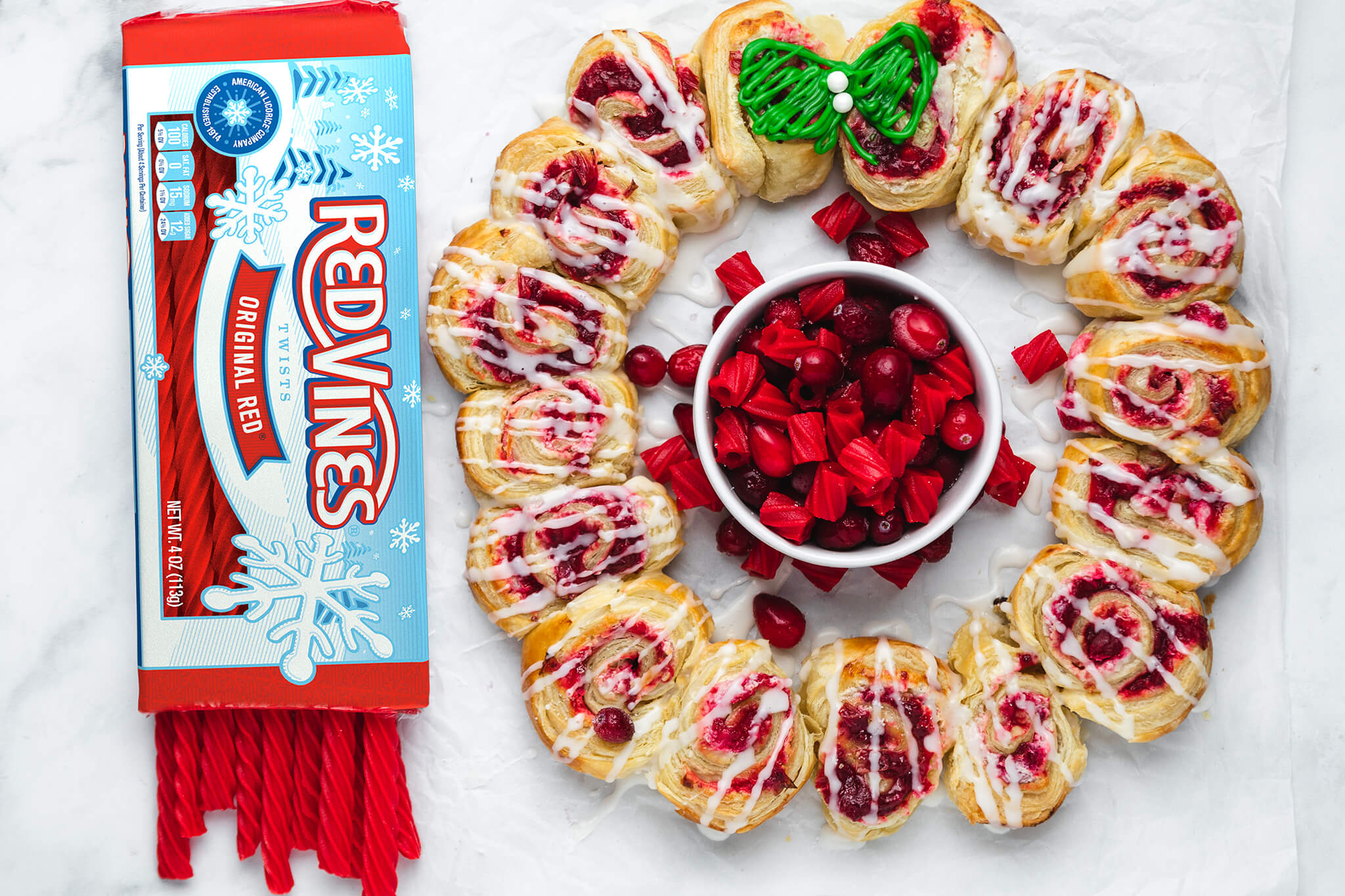 What You'll Need:
2 cups Red Vines Original Red Winter Twists, chopped
4 cups of fresh or frozen cranberries
½ cup sugar
1 cup water
1 orange juiced and zested
1 tablespoon orange zest
1 cinnamon stick
2 Puff Pastry sheets
4 oz cream cheese, room temperature
¼ cup granulated sugar
1 teaspoon vanilla extract
½ cup of powdered sugar
1 tablespoon milk
1 egg
1 tablespoon of water
Preheat Oven and Prepare Filling
Preheat oven to 400 degrees Fahrenheit.

If puff pastry sheets are frozen, set them out now before preparing the filling.

In a sauce pot, add cranberries, water, cinnamon, orange juice, zest, and sugar. Simmer for 10 minutes over medium heat.
Add Red Vines Candy to Sauce
Once the cranberries have dissolved, add in RED VINES candy and cook for 2 minutes.

When the sauce has thickened, set aside and let cool to room temperature.
Mix Cream Cheese, Sugar and Vanilla
In a bowl, mix together cream cheese, sugar, and vanilla until creamy and smooth.

Set aside.
Unroll Puff Pastry Sheets
Unroll the puff pastry sheets and spread the cream cheese & sauce, leaving less than ½ of an inch on the sides.
Roll Up Dough
Starting on the long edge, roll up the pastry dough into a log.
Arrange Circle and Brush with Egg Wash
Cut the log into 16 equal pieces and arrange in a circle on a cookie sheet lined with parchment paper.

Brush each of the rolls with the egg wash and bake for 20 – 25 minutes.
Drizzle Glaze Over Danish
Mix together powdered sugar and milk to make the glaze.

When finished, let cool for 10 minutes and drizzle with glaze.
Brighten up your day with deliciously vibrant String Light Cake Pops! These tasty holiday treats feature Red Vines Winter Twists.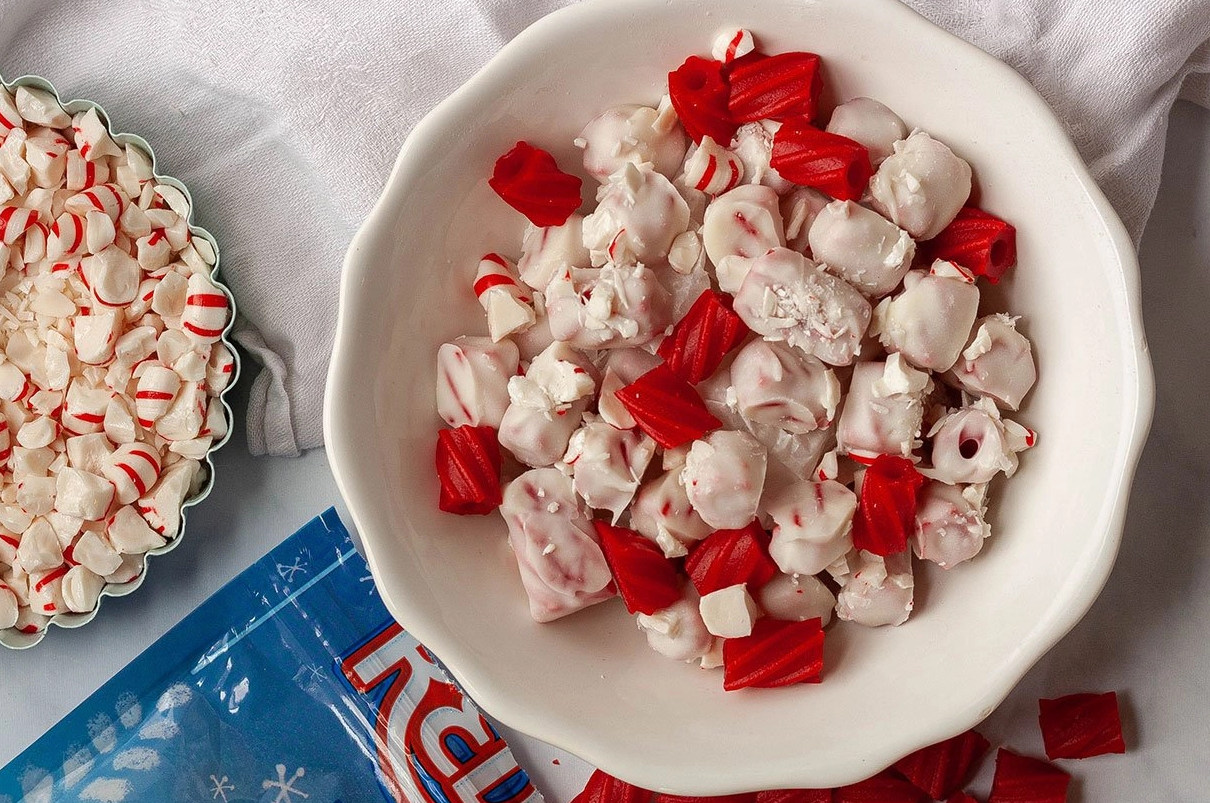 An ideal indulgence for peppermint lovers who also have a sweet tooth, these White Chocolate Peppermint Bites featuring Red Vines holiday candy will be a hit this winter!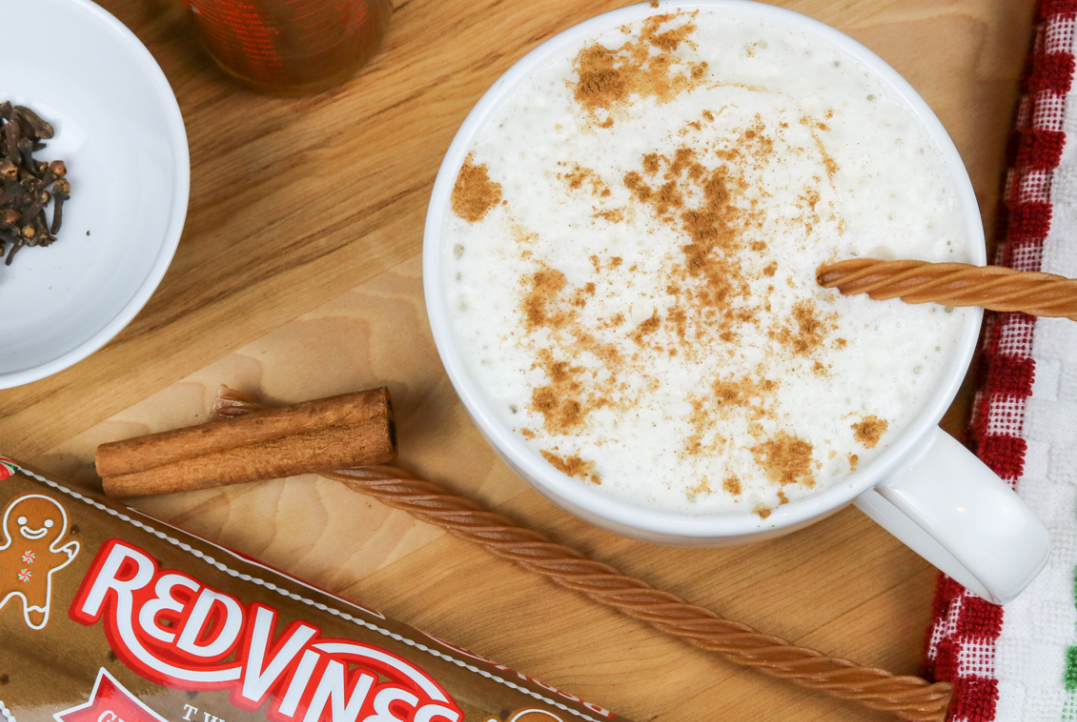 Sip on something smooth, sweet and caffeinated to get you through the season! This soul-warming Gingerbread Latte features seasonal flavor notes and Red Vines Gingerbread Twists.