Sour Punch Haunted House
With Sour Punch Halloween Candy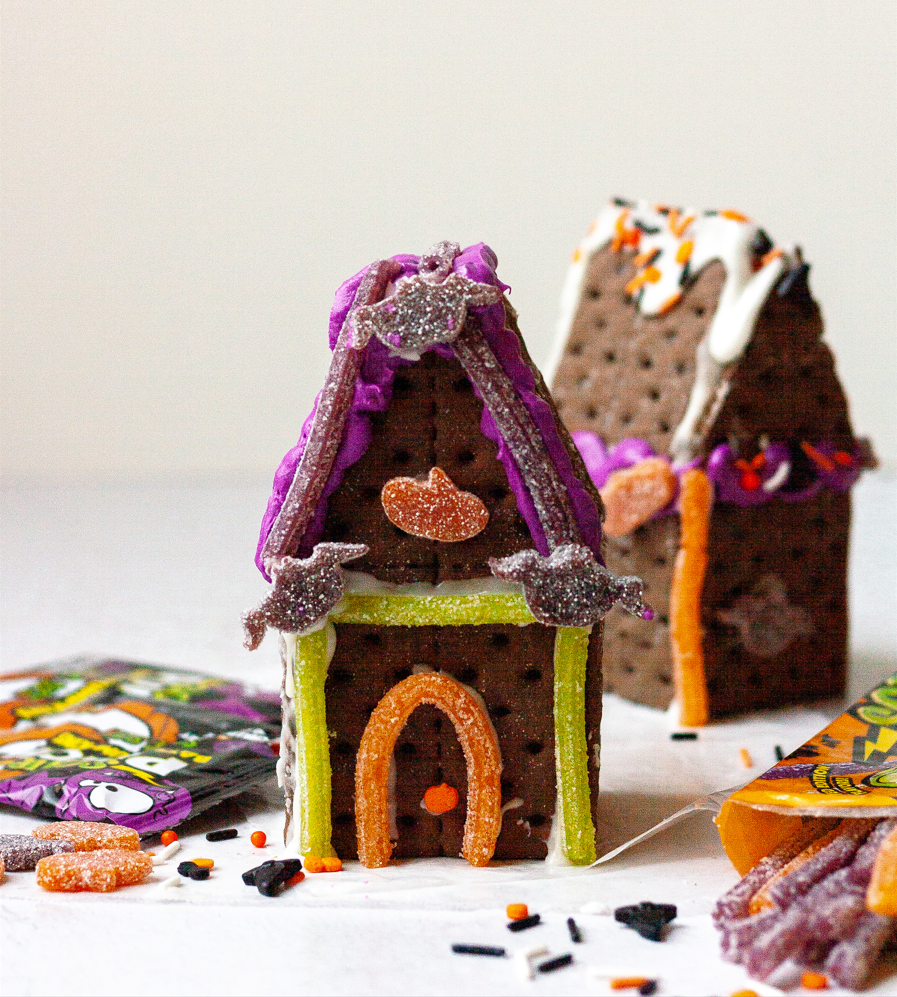 What You'll Need:
12 full graham crackers, regular or chocolate
1 cup (160 grams) powdered sugar
1 egg white (35 grams)
4-5 Scare Size bags of Sour Punch Bats & Pumpkins (within the Mummy Mix)
Prepare the "Walls"
You'll need 4 full sheets of graham crackers for each house.

To build each house, break 2 of the graham crackers in half to form 4 squares (A, B, C & D).

Use a sharp, serrated knife to gently trim the other 2 graham crackers to form the sides with roofs (E & F) as shown in the photo.
Assemble Graham Cracker House
Use a butter knife to apply a small amount of royal icing all along the right edge of graham cracker A.

Press graham cracker E at a right angle to the frosted edge of graham cracker A. Stand the two pieces up gently.

Apply royal icing to the left edge of graham cracker B. Press graham cracker B to the other side of cracker E to form a C shape.

Apply royal icing along both sides of graham cracker F. Press graham cracker F to the open sides of crackers A and B to form a square of graham crackers. This is the base of the house.

Apply royal icing along the sides and bottom of graham crackers C and D. These two crackers will form the peaked roof.

Holding one frosted cracker in each hand, fit crackers C and D into the open spaces at the top of the house. They'll touch at the top, forming triangle. Fit the bottoms of each cracker to the top of the "wall" crackers below.
Let Assembled House Sit for One Hour
Let the assembled houses sit at room temperature for at least 1 hour before decorating to allow the icing to harden fully.

Don't throw away the remainder of the royal icing—you'll want to use this during decorating as glue! Place the leftover royal icing in a small Ziploc bag and seal it until you're ready to decorate. You can also use a disposable piping bag, if you have one.
Melt Chocolate and Add to Piping Bag for Decoration
If using chocolate, melt the chocolate and transfer it to a small Ziploc bag and seal the top. You can also use a disposable piping bag, if you have one.

Unwrap the bags of Sour Punch Halloween Bats & Pumpkins and the package of Spooky Straws.

If using sprinkles, pour a small amount into an easy-to-access container.

Snip a small corner off of the corner of the Ziploc bag containing melted chocolate. This bag will be a makeshift piping bag. Repeat with the bag of leftover royal icing.

Both the chocolate and/or royal icing can serve as "glue." Gently squeeze your chosen "glue" along the top ridge of the graham cracker house and anywhere else you'd like some decoration.
Decorate Halloween Haunted Graham Cracker House
Stick candy and/or sprinkles into the glue you've applied. Decorate as you like!

Some hints:
Spooky Straws make great arched doorways
Use a sprinkle "doorknob"
Bats & Pumpkins make great décor along the top and sides of a house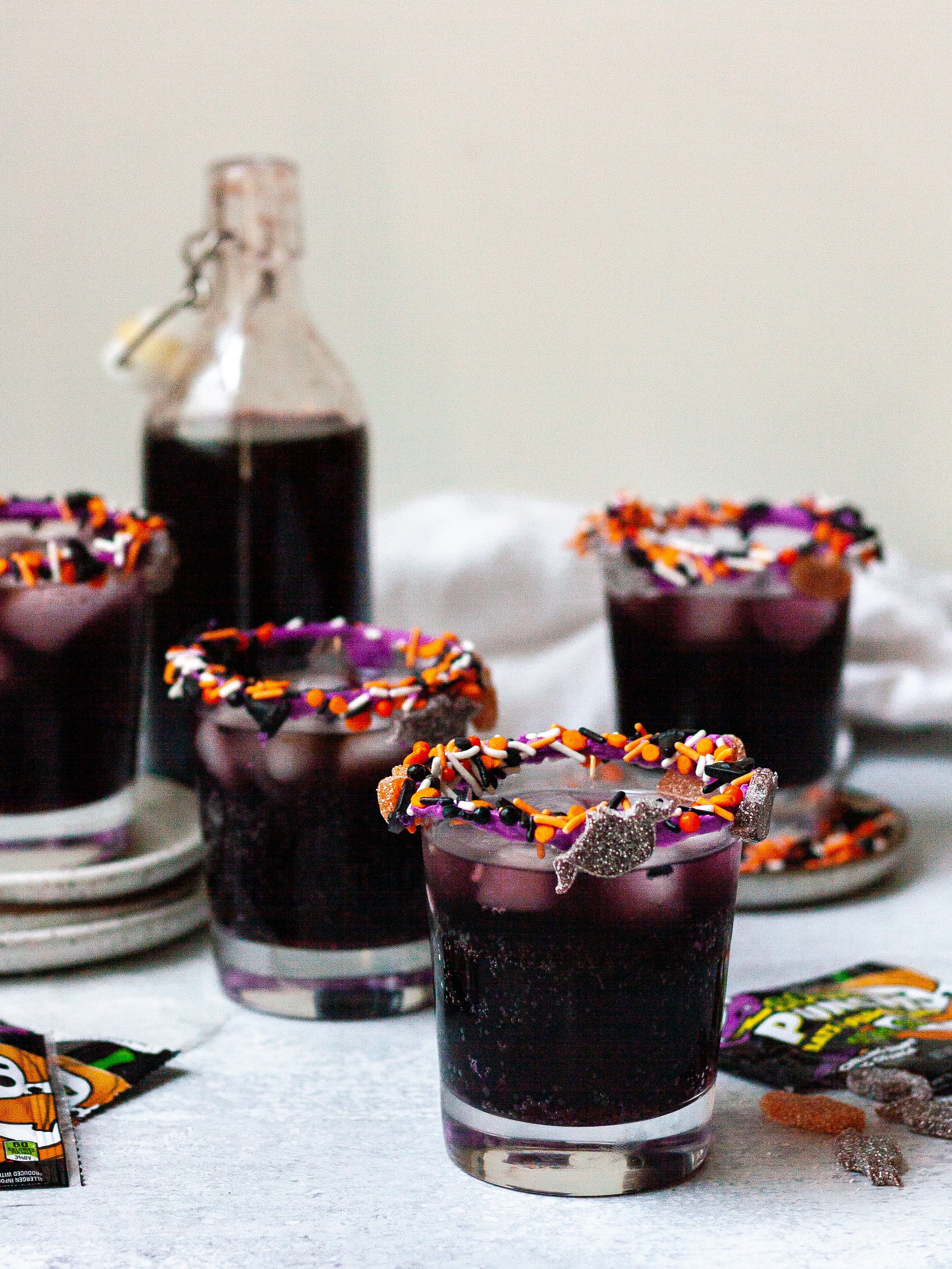 Fill the cauldron with a delicious seasonal mocktail. This Sour Punch Grape Mocktail is a fun beverage option for Halloween parties or scary movie nights.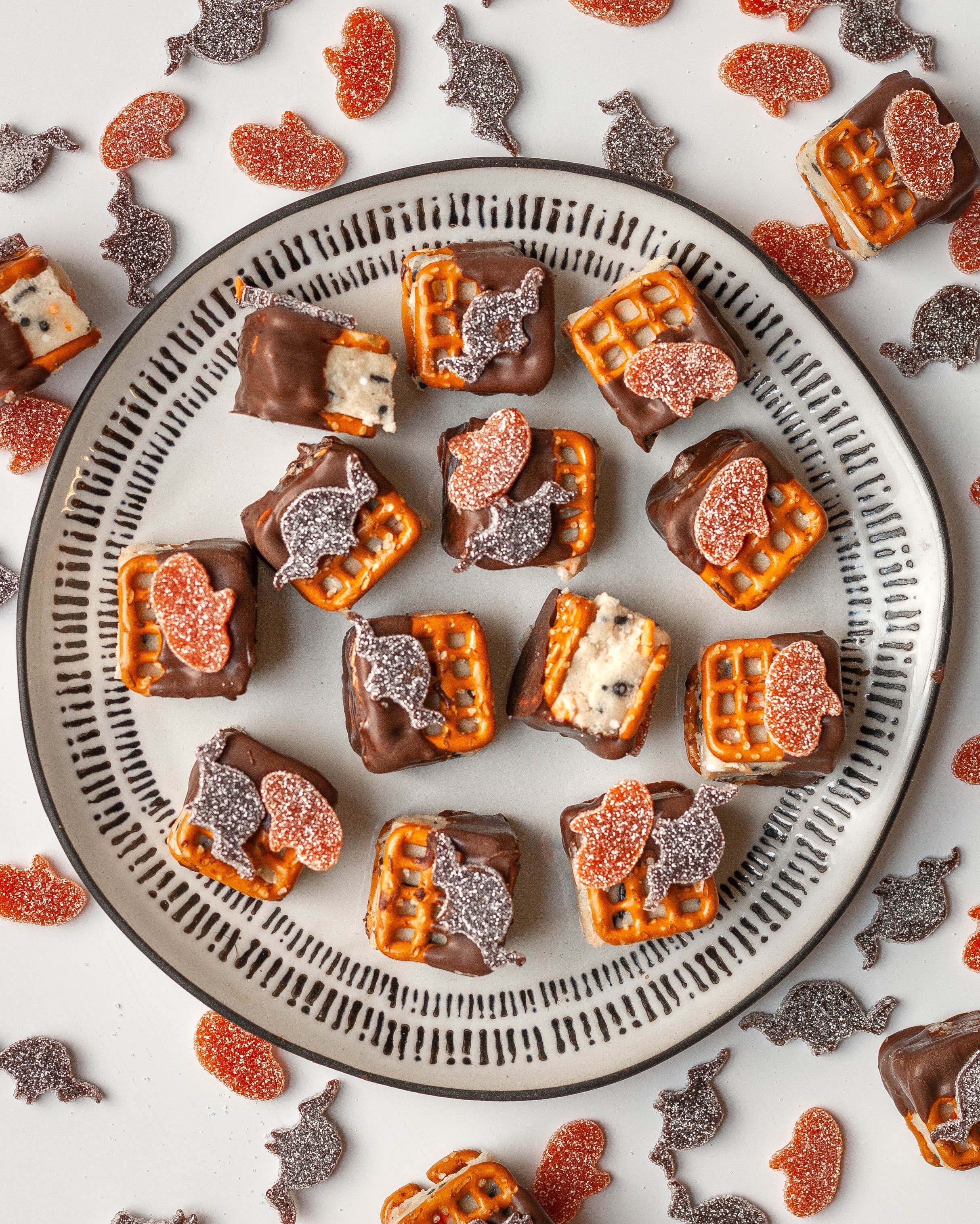 You've never experienced a sandwich quite like this! Prepare to indulge in savory-sweet perfection that is spookily delicious. These no-bake sandwich desserts feature edible cookie dough and Sour Punch Bats & Pumpkins Halloween Candy.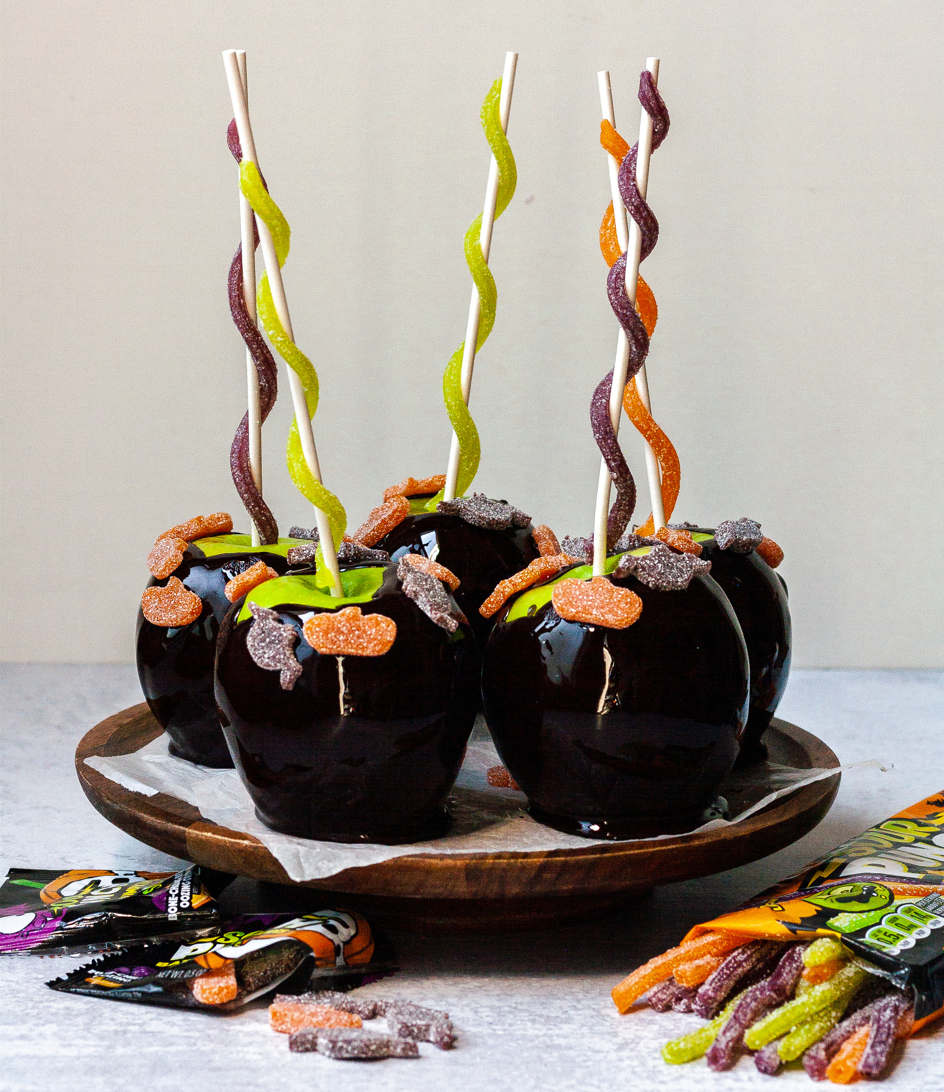 A candy apple a day keeps the monsters away! This fall, have a blast creating your own candy apples with Sour Punch Spooky Straws and Bats & Pumpkins as the decorations.