Sour Punch Piña Colada Cupcakes with Coconut Cream Cheese Frosting
With Sour Punch Tropical Bites
What You'll Need:
FOR THE CUPCAKE
1½ cup Sour Punch Bites, Tropical Blends, plus extra for topping
½ cup of water, divided
1⅓ cups all purpose flour
1½ teaspoon baking powder
¼ teaspoon salt
½ cup sugar
½ cup unsalted butter, softened
2 eggs
1 cup crushed pineapple, drained
½ cup coconut milk
¼ teaspoon coconut extract
FOR THE FROSTING
½ package cream cheese, softened
¼ cup unsalted butter, softened
½ teaspoon coconut extract
1½ cups powdered sugar
FOR THE FROSTING
Maraschino cherries
Sour Punch Tropical Bites
Shredded coconut (optional)
Melt Tropical Sour Punch Bites
Preheat your oven to 350˚F and line a muffin tin with cupcake liners.

Add the Sour Punch Bites, Tropical Blend to a small saucepan along with ¼ cup of water and place over low heat. Stir frequently as the candy melts to prevent it from sticking to the bottom of the pan. When the water cooks off, add another ¼ cup of water and continue to cook and stir until the Sour Punch is mostly melted, about 10 minutes.
Combine Ingredients
In a medium bowl, combine the flour, baking powder, and salt.

In a large bowl, beat together the butter and sugar on medium speed until light and fluffy, about 3 minutes, scraping down the sides of the bowl as necessary. Add the eggs and beat until well combined. Then beat in the melted Sour Punch Bites Tropical Blends.

Using a fine mesh strainer, drain the pineapple and press down with a spatula to release as much liquid as possible. In a large bowl, combine the pineapple with the coconut milk and coconut extract.

Pour a bit of the dry mixture into the bowl with the melted Sour Punch, then a bit of the pineapple mixture. Beat on low until well combined, adding more dry ingredients and wet ingredients until everything is blended together.
Spoon Cupcake Batter into Muffin Tin
Spoon the cupcake batter into the muffin tin slots, filling each about ¾ full. Bake for 20 to 22 minutes, or until a toothpick comes out clean.

Allow the cupcakes to sit for 10 minutes, then transfer them to your countertop or a wire rack to cool.
Make Coconut Cream Cheese Frosting
To make the frosting, beat the cream cheese, butter, and coconut extract until light and fluffy. Gradually add the confectioners sugar and continue beating until the frosting is smooth and spreadable. If the frosting is too thick, add a bit of heavy cream or milk to thin. If the frosting is too liquidy, add more confectioners sugar.

Transfer the frosting to a pastry bag and pipe onto cooled cupcakes.
Add Cherry, Coconut and Sour Punch Toppings
Top each with a maraschino cherry, extra Sour Punch Bites, Tropical Blends, and shredded coconut, if desired.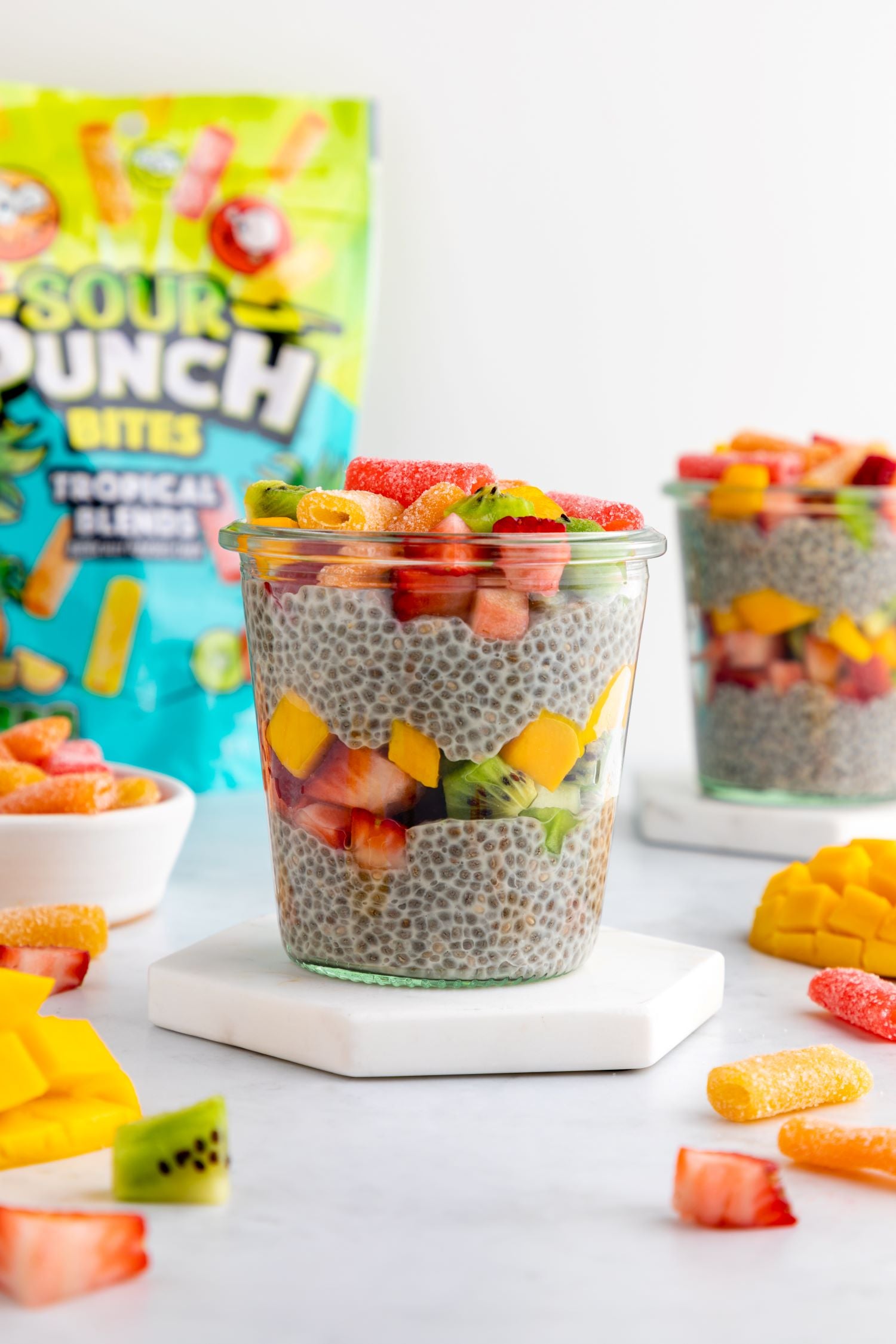 Fresh fruit flavors and tropical vacation vibes make up these Tropical Chia Pudding Parfaits! Inspired by Sour Punch Tropical Bites, you don't want to miss this tasty summertime treat.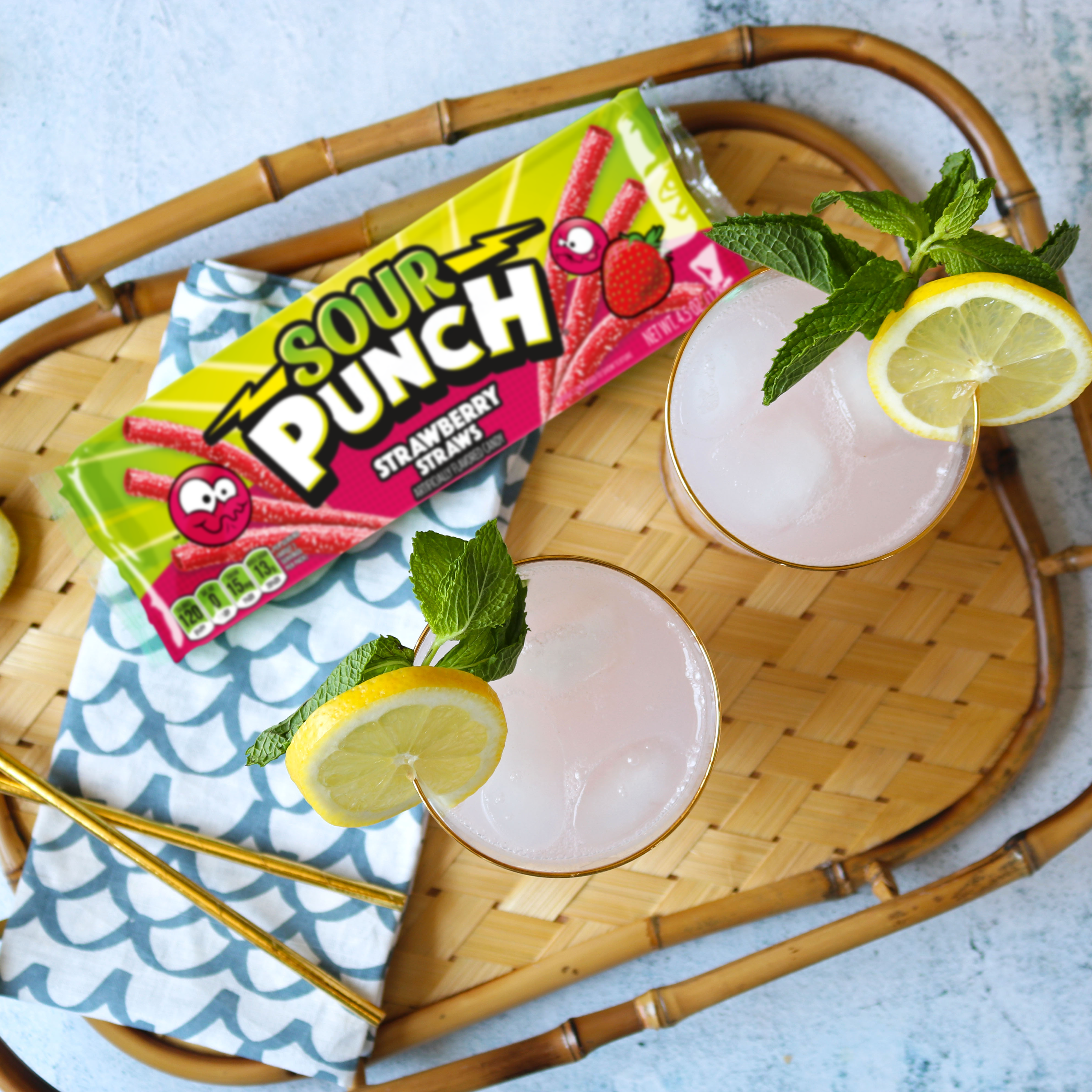 Make happy hour sparkle with a cool and refreshing lemonade recipe, inspired by one of our favorite Sour Punch Straw flavors!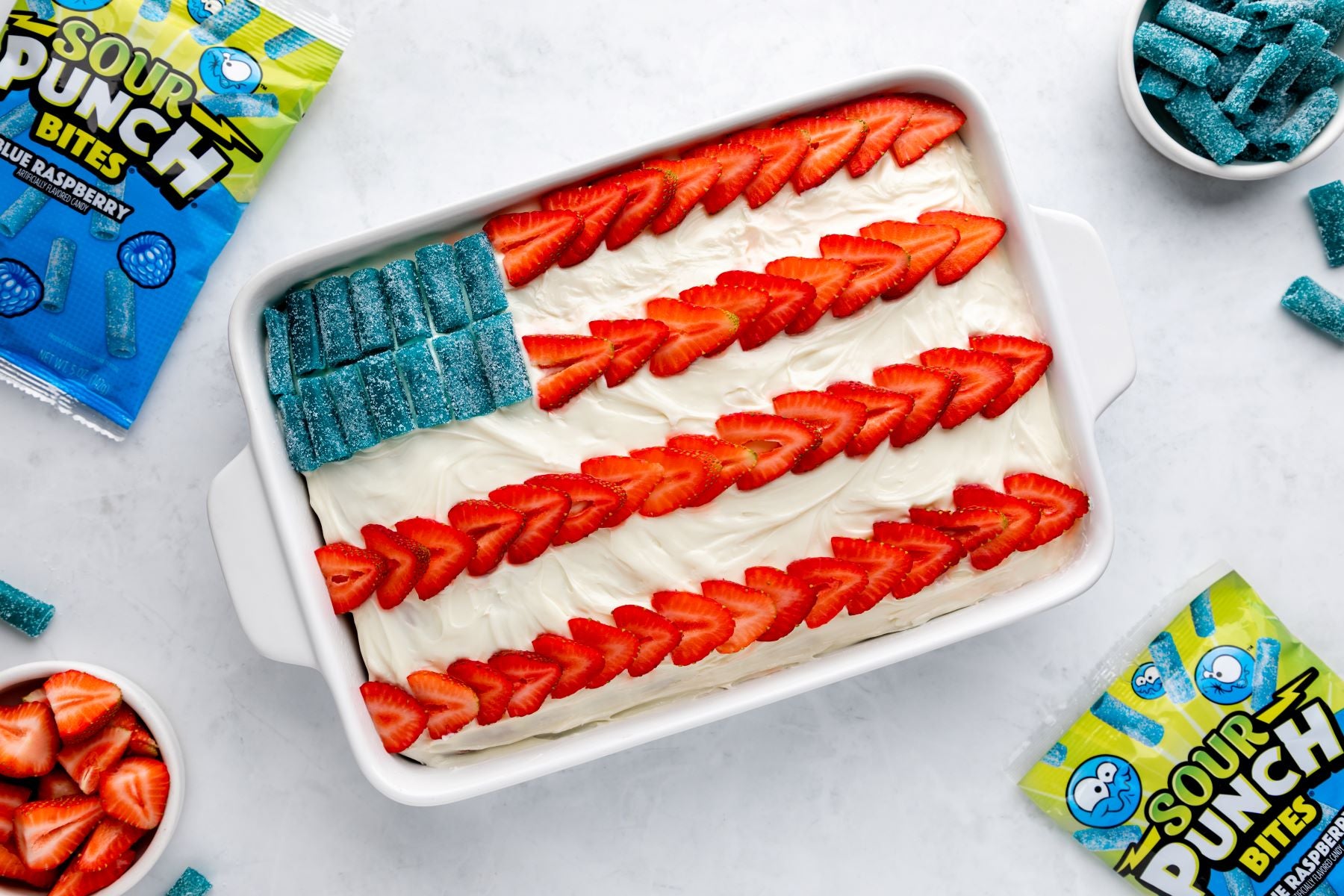 Red, white, blue, and tasty as can be! This American Flag Cake features Sour Punch Blue Raspberry Bites as the stars atop your favorite kind of cake (the batter choice is yours)!