Red Vines Dark Cocoa Sheet Cake Recipe
With Red Vines Everyday and Seasonal Candy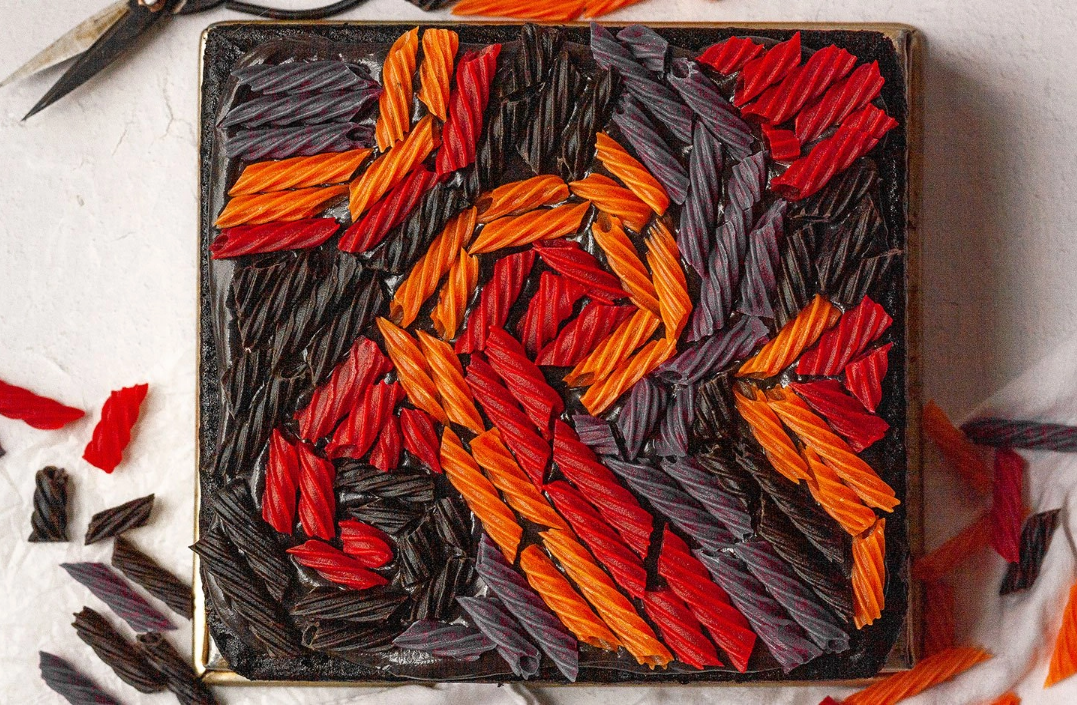 What You'll Need:
CAKE:
1 cup (200 grams) sugar
2 eggs
½ teaspoon table salt
1 cup (240 grams) buttermilk
¼ cup (60 grams) oil
¼ cup (55 grams) melted butter
¾ cup (68 grams) black cocoa powder
1 cup (128 grams) all-purpose flour
1 teaspoon baking powder
¼ cup (60 grams) water
½ teaspoon baking soda
FROSTING/DECORATING:
1 cup + 2 tablespoons (180 grams) powdered sugar
8 tablespoons (113 grams) butter
8 tablespoons (113 grams) butter
1 tablespoon (15 grams) heavy cream
1/8 teaspoon table salt
3 ounces of chocolate chips
½ teaspoon black food coloring (optional)
Red Vines Twists of various flavors
**Optional! Feel free to use a premade chocolate frosting instead.
Mix Cocoa Sheet Cake Ingredients
Preheat oven to 350°F. Line a 9×9 square pan with parchment paper.

Whisk together the eggs, sugar, and salt until foamy. Add the buttermilk, oil, and melted butter and whisk to combine.

Add the cocoa powder and whisk to combine. Add the flour, baking powder, baking soda and whisk until smooth.

Whisk in the water.
Bake Cake and Let Cool
Pour the batter into the pan and bake for 35-40 minutes, until the cake springs back when you gently press the top.

Remove the cake from the oven and let cool in the pan for at least an hour.

While the cake cools, make the frosting.
Make Chocolate Frosting
In the bowl of stand mixer, combine the butter and salt. Beat the butter for 3 minutes, until very creamy.

While you beat the butter, melt the chocolate chips in a small microwave-safe bowl. Microwave for 30 seconds at a time, stirring after each microwave cycle. Repeat 2-3 times until the chocolate is melted and smooth.

Add ½ of the powdered sugar to the butter mixture and mix on low speed until combined.

Add the remaining powdered sugar. Mix on low speed until combined. Add the melted chocolate and mix on low speed until combined.

Add the cream and black food coloring, if using. Turn the mixer speed up to medium-high, and blend until the frosting is very fluffy—about 5 minutes.
Frost Dark Cocoa Sheet Cake
Use the parchment paper in your cake pan like a sling to remove the cake from the pan. Place the cake on a plate or serving tray.

Use a spatula or spoon to dollop a large amount of frosting onto the cake.

Use an offset spatula, the back of a spoon, or a butter knife to spread the frosting into a layer on the top of the cake. Don't worry if it's not perfectly smooth—you'll be covering it with candy anyway!
Decorate with Red Vines Licorice Candy
Cut the Red Vines Licorice Twists into small pieces, ranging from ½ inch to 1 ½ inches long. A variety of sizes is fine!

Place pieces of Red Vines on the cake, making a pattern if desired.

Continue until the entire cake is covered with Red Vines.
Store Finished Sheet Cake
The cake will keep at room temperature, well covered, for up to 4 hours. You can also store it in the refrigerator, well covered, for up to 3 days.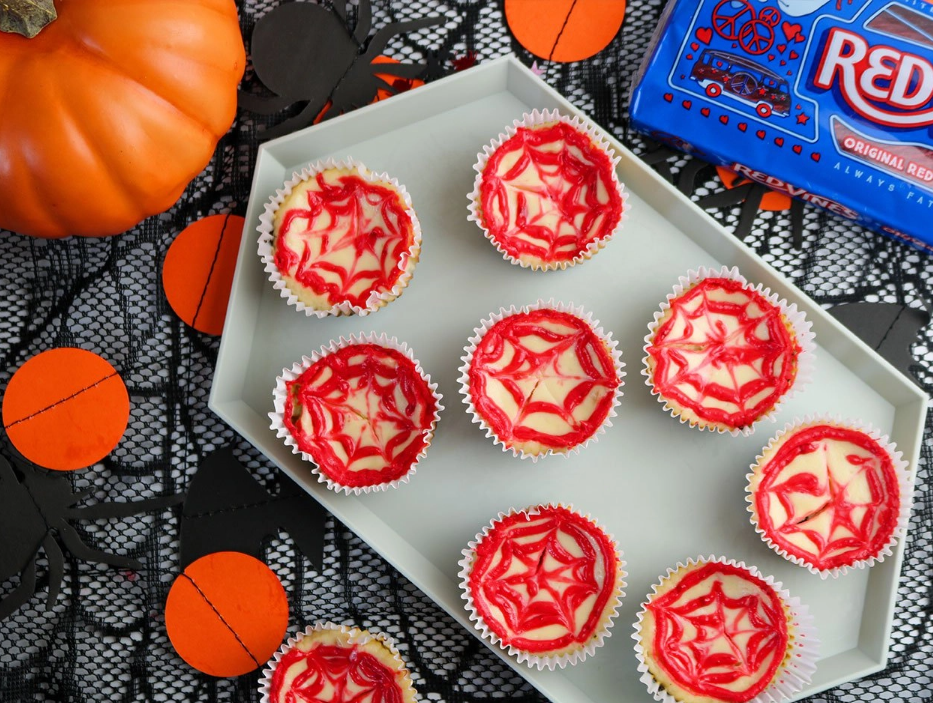 A creative take on a classic dessert, these Spider Web Mini Cheesecakes make the perfect Halloween party treats!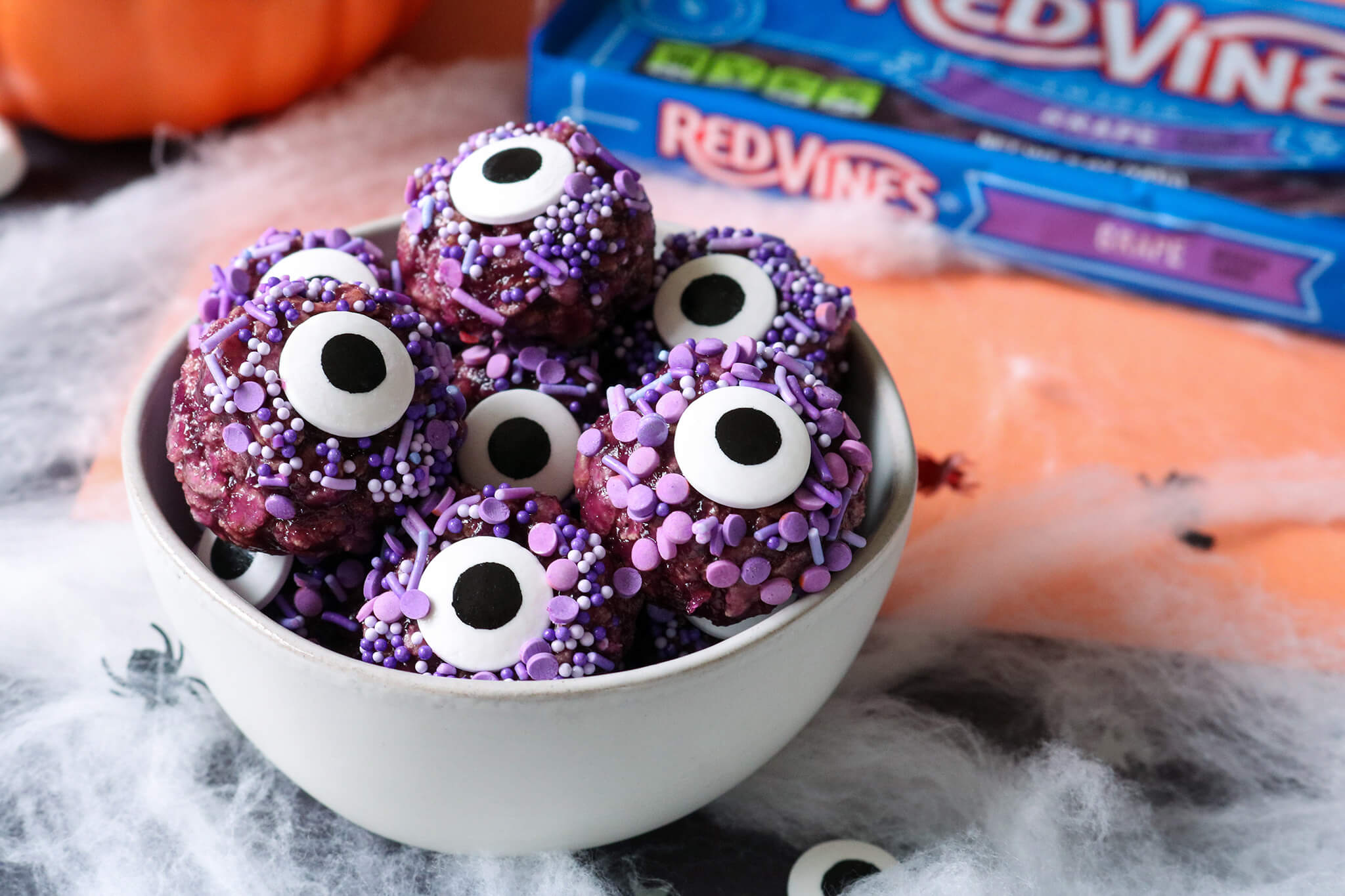 Need a spooky tasty treat for your Halloween party? These Purple Monster Eyeballs are sweet and spooky and fun to make!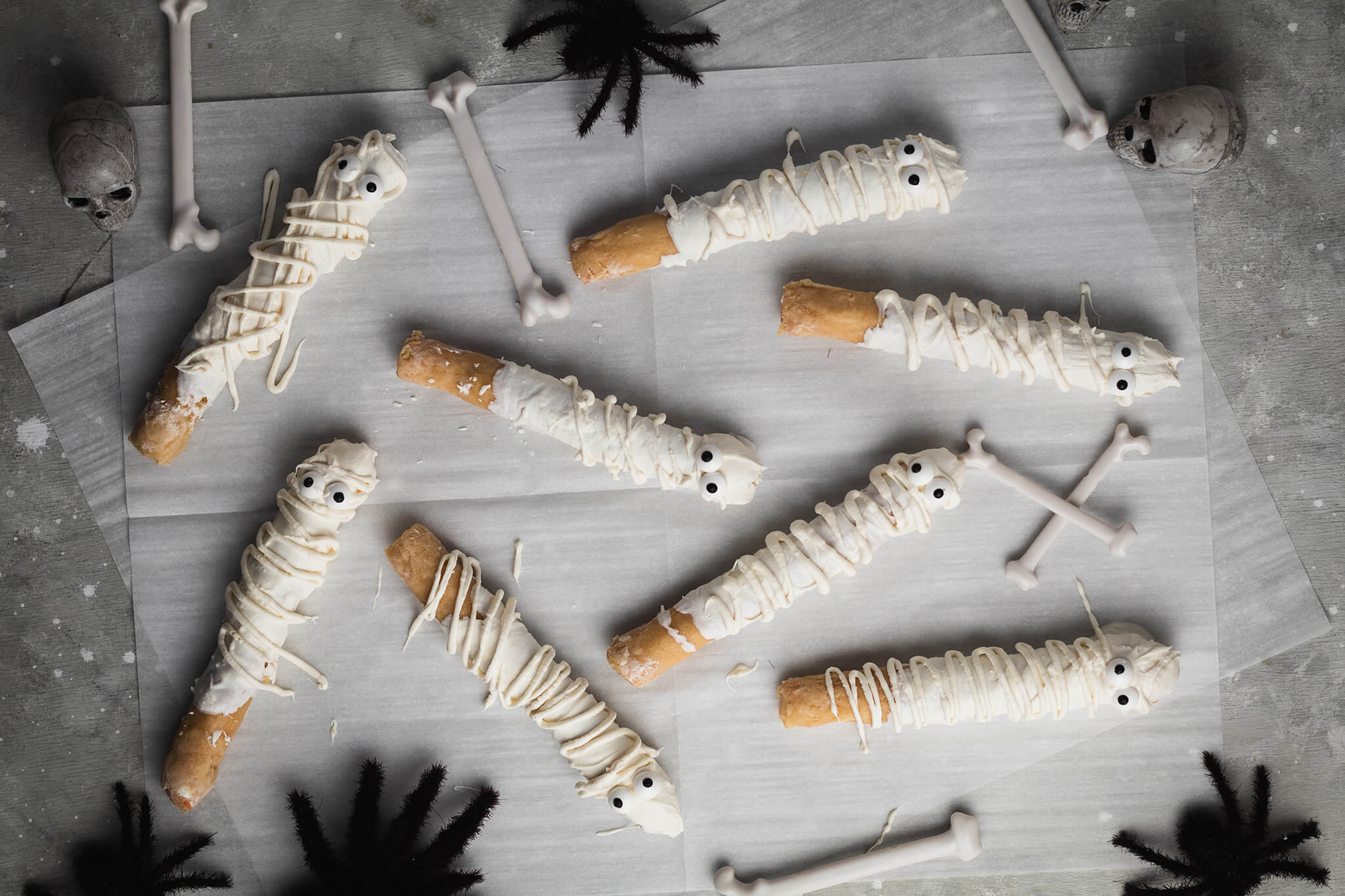 Experience mouthwatering mummy madness with these tasty Mummy Red Vines Truffles!