Red Vines Pumpkin Cookie Recipe
With Red Vines Fall Candy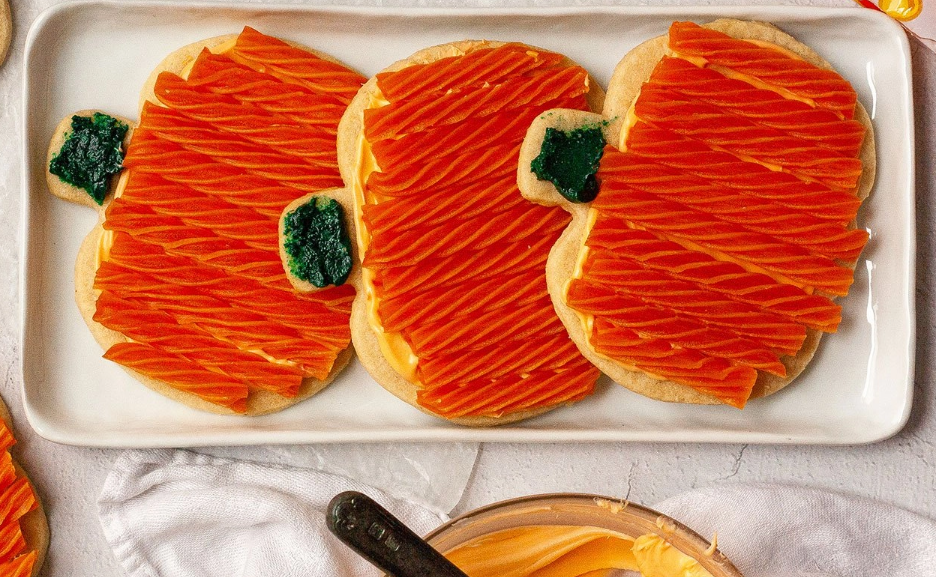 What You'll Need:
SPICED SUGAR COOKIES:
7 tablespoons (93 grams) unsalted butter, room temperature
1/3 cup + 1 tablespoon (83 grams) granulated sugar
½ teaspoon table salt
2 egg yolks
1 teaspoon vanilla extract
1 cup + 1 tablespoon (148 grams) all purpose flour
2 ½ teaspoon (7 grams) cornstarch
½ teaspoon pumpkin pie spice
FROSTING/DECORATING:
1 cup + 2 tablespoons (180 grams) powdered sugar
8 tablespoons (113 grams) butter
1 tablespoon (15 grams) heavy cream
1/8 teaspoon table salt
Orange food coloring (optional)
Red Vines Fall/Halloween Candy
** Optional! Feel free to use a pre-made frosting instead
Make Cookie Dough and Cut Pumpkin Shapes
In the bowl of a stand mixer, combine the butter, sugar, and salt. Using the paddle attachment, mix until smooth and creamy—about 3 minutes. You can also do this by hand if you don't have a mixer!

Add the egg yolks and vanilla and stir to combine. Add the flour and stir on low speed until all the flour has disappeared into the dough.

Remove the dough from the mixing bowl and place it on a piece of parchment paper.

Place another piece of parchment paper on top and press down slightly. Use a rolling pin to roll the cookie dough out to 1/8" thick between the two layers of parchment. Place the parchment-lined cookie dough sheet into the refrigerator and chill for 2+ hours. Preheat the oven to 350F. Line 2 baking sheets with parchment paper.

Remove the parchment paper from the top of the cookie dough sheet. Use a pumpkin shaped cookie cutter to cut shapes out of the cookie dough.
Bake Cookies and Let Cool
Place the cookie dough cut outs onto the baking sheets, leaving at least one inch of space between cookies.

Press the dough scraps together and reroll them until all the dough has been used.

Bake for 12–14 minutes, until pale in the middle and light golden brown on the edges. Let cool completely.
Make Orange Frosting
In the bowl of stand mixer, combine the butter and salt. Beat the butter for 3 minutes, until very creamy.

Add ½ of the powdered sugar and mix on low speed until combined. Add the remaining powdered sugar. Mix on low speed until combined.

Add the cream and orange food coloring, if using. Turn the mixer speed up to medium-high, and blend until the frosting is very light and fluffy—about 5 minutes.
Decorate Cookies with Red Vines
Cut the Red Vines candy into pieces approximately the same length as your cookies.

Using an offset spatula or butter knife, dollop a small amount of frosting into the center of one cookie. Spread it around to cover the top of the cookie.

Place pieces of Red Vines vertically on a cookie, lining them up side-by-side to make stripes on the cookie. Repeat with the remaining cookies.
Store at Room Temperature
Cookies will keep at room temperature, well covered, for up to one week.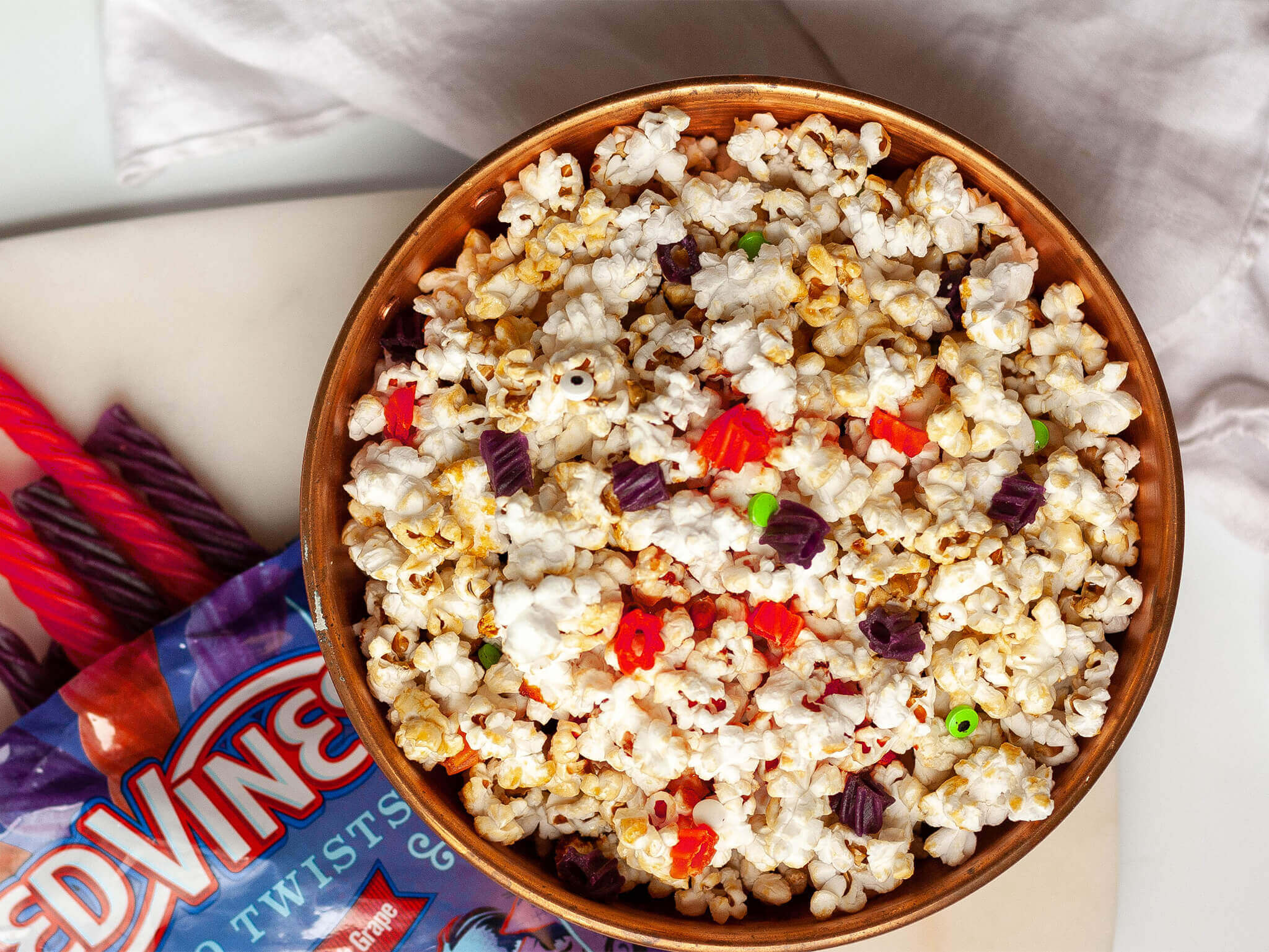 Candy corn with a whole new (Red Vines) twist! Enjoy this super simple, super sweet and salty snack all fall long.
Looking for a monstrously delicious treat? Look no further than these Red Vines Monster Marshmallow Popcorn Balls! These spooky snacks are perfect for Halloween parties, movie nights, or anytime you're in the mood for a little bit of whimsical fun. Not only are these absolutely delicious, they're also a blast to make!